Health and Wellness Resources
Chocolate Mug Cake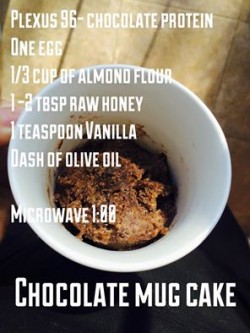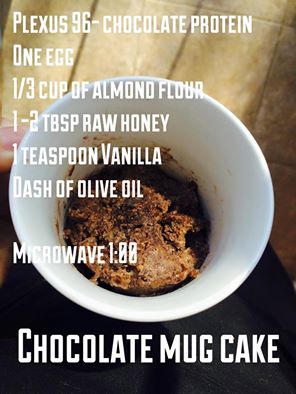 What sounds more yummy than your very own personal chocolate cake?  I'm sure many of you just cringed at the thought of having to bake, but I assure you this is the easiest cake you will ever make.  Chocolate mug cake has become a very trendy dessert found on Pinterest, but I took on the challenge of making a healthy version that I could enjoy guilt-free.  This chocolate mug cake is paleo, gluten-free, packed with protein and contains no artificial sweeteners!  What's even better, it only takes 1:00 to cook.
What you'll need:
Chocolate Protein Powder
One egg
1/3 Cup Almond Flour
1-2 T Honey
1 t Vanilla
Dash of Olive Oil
Mix all ingredients into a microwave safe coffee mug and microwave on high for 1:00.
It really is that simple!  Spice it up by adding cinnamon and serving it with fresh strawberries.  I also like to switch it up by using vanilla protein powder and adding blueberries.  This will work with any protein powder but I recommend looking for one that does not contain any artificial ingredients and is a whey protein.  Enjoy!!
Stay Up-To-Date!
Join our email newsletter
Get healthy living tips, exercises, recipes, event information and more delivered right to your inbox.